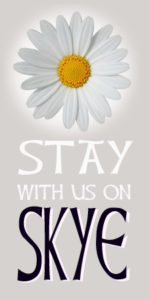 Sustainable Skye a Sustainable Symbiosis  –  C
aring through Action  
Our island community is remote, our heritage and environment under threat and our planet increasingly volatile. Sadly all too often, much of the blame is laid at the door of tourism, but there are many factors at play.  
Tourism has been integral to a successful island life for generations of our family. Our home has welcomed guests since it was first built, and has been the lifeblood that complimented the subsistence living, of traditional crofting. The most recent home on the family croft was built by Willie and Mae MacKay, who crofted, ran the village Post Office and welcomed guests into their home for B & B. Many happy good times and ceilidhs were enjoyed and lifelong friends made. It is a tradition that carries on down the line 3 generations later, sharing our island life and home is what we do. As with everything the solution lies in finding a sustainable symbiosis, and how we manage our business and the decisions we make impact on us all.
We believe we are custodians of the planet and that it's our responsibility to minimise the impact of our activities on it. The recent tsunami of media coverage at times feels overwhelming but it's also true that our behaviour towards the planet must change. We truly believe that many small steps will make progress along the path towards a more sustainable lifestyle and we have started the journey as described below.
Much has been written in the media recently about the negative impacts of tourism on Skye, however we believe that with effective planning and thoughtful consideration, it's very possible to achieve a sustainable symbiosis that reassures both local residents and our valued guests, who are the lifeblood of our tourism economy. Considerate, responsible, slow tourism is key and both locals and visitors alike have to take ownership of delivering that. Here's what we are doing.
Skye is a very large island with so much to do, that we encourage slow tourism and longer stays. We believe this not only benefits your visitor experience, but it lessens the impact on both the islands environment and our communities. If you consider the factors at play it is quite profound. Multiple changeovers require increased cleaning, water, energy and chemicals, that is fairly obvious. Less obvious though is the massive increase in both physical and carbon footprint with multiple changeovers of guest each week. When you think, 1 family taking time to explore all of the islands treasures thoroughly over a week, compared with 3 or 4 families changing out of the same property on short breaks in a week, all rushing to the same popular sites for a brief visit to tick the selfie photo list. Multiply that over all the rental properties and it's easy to see why the much talked about negative impact of tourism is becoming an issue.
We have created a 'Inspired to Explore' pages showing where we are located and offering days out suggestions for the 6 regions of Skye, Lochalsh and Raasay. In truth every one of those destinations has enough to see and do to last a week. We hope by sharing our recommendations you can plan your days out effectively, minimising your travel footprint and maximising your fun. Escaping the hot-spots by getting of the beaten track will help you discover the Skye Experience that we believe you seek, but can at times be elusive in some much frequent locations. 'Brochures & Guidebooks' online saves printed resource also preventing the spread of infection.
A warm welcome and genuine Highland hospitality, famed the world over, is woven into our rich and diverse culture and we hope to be welcoming guest to enjoy our island home for years to come.
We hope you enjoy your visit to our Island Home. 'Failte'