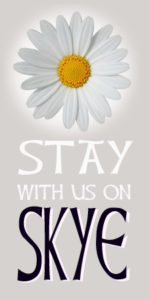 Stay with us on Skye – WELCOME YOU
We invite you to enjoy a holiday at our family's charismatic island home in Ascrib or Shiant self-catering cottage apartments, where dogs are welcome. Centrally located in North Skye, midway between Portree and Dunvegan, and neighbour to well-known Waternish, this location makes it the perfect base to explore all parts of our magical island.
By the shore and with uninterrupted sunset sea-views, these cosy, romantic apartments are available all year round. Situated on their own croft land, facing northwest and southeast they are blessed with glorious sunrises, sunsets, views of our mesmerising dark skies and the awe-inspiring aurora borealis when those prefect moments occur.
The cottage holds a sense of peace and happiness, with years of smiles and laughter under its roof, and a place of happy memories for its many guests throughout the generations. Tourism is integral to our heritage and island life and the welcome is warm.
Our larger self-catering accommodation at Dive & Sea the Hebrides on the shore in Stein, in Waternish sleeps 10 and welcomes sport clubs or groups participating in water-based activities, including snorkeling, wild swimming, kayaking and paddleboarding.
We love our incredibly special island and share our passion for it, along with our favourites, and top tips to help you make the most of your holiday. Our ideal location, some local knowledge and a wee bit of planning, will inspire you to explore all the nooks and crannies, to get off the beaten track and with our brochures and guidebooks, to discover lesser known and tranquil Skye, as well as the internationally popular selfie hotspots. There is so much to See & Do, make sure to allow plenty of time.
At 'Stay with us on Skye' we encourage sustainable slow tourism, an approach we believe achieves a successful symbiosis for visitors and islanders alike. Striving to achieve NetZero, a responsible approach to our environment and community, and to support a circular local economy wherever we can, our robust Covid procedures align with these objectives.
To enjoy a magical holiday that will relax, rejuvenate, and inspire, whatever the season we invite you to come 'Stay with us on Skye' and discover it for yourself.