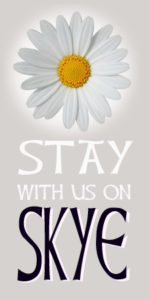 PHOTOGRAPHY CREDITS – THANK YOU
We would like to say a huge thank you to those who have permitted the use of their images throughout this website.
Most were taken in-house, but those extraordinary moments of sunsets and aurora, are amongst those which we are just simply not there to catch at that magical moment.
We are very grateful for those moments being shared with us.
Credits for those particular images are as follows;
WELCOME Page
Header [1]: 'Sunset after the rain' by Isabel Nelson Rapson Photography
Header [5]: Image tbc
Header [7]:  'Aurora View from the Cottage' by Isle of Skye Wildlife Tours
ISLAND LIFE
Header [2]: 'World-class Island' by Iain Jones of SkyeLight Images,
INSPIRE TO EXPLORE
Header [1]:  'So Much to Do!' Contributors, Alan Campbell of Woodrising Gallery, Simon Volpe, Gordon Brown of Skyak Adventures, Visitor Attractions
Header [2]: 'Wonderful Wildlife' by Divers Eye Boat Trips
Header [3]: 'Vibrant Events' by Willie Urquhart
Header [4]: 'Breathtaking Scenery' Contributors, Divers Eye Boat Trips, Robert Arnold, Frank Gloystein, Gavin Anderson
Header [5]: 'Steeped in Heritage' Contributors,  The Visitor Attractions, Allan MacDonald
AVAILABILITY & BOOKINGS
Header [3]: 'Book before the sun sets' by Isabel Nelson Rapson Photography
PROPERTY GALLERIES
Sunsets by Isabel Nelson Rapson Photography
Aurora by Isle of Skye Wildlife Tours