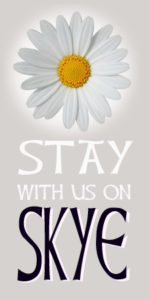 Ascrib self catering cottage apartments – ASCRIB, sleeps 4
2 double beds, 2 dogs
Ascrib self catering cottage apartment is a charming island retreat, which invites you to take off your boots, wriggle your toes, ease your weary feet. Light candles, pour fine wine and snuggle up to romance the hours away! Escape, whatever the reason, to candlelight by its cosy log-burning stove! With Jacuzzi, canopy beds, fireside sunsets, candles and flowers, an iconic island welcome awaits you. Dogs are welcome with well-behaved owners! 
Enjoy our family home on the croft in the township of Kildonan (near Edinbane), with magnificent views over Loch Snizort to the Ascrib Islands and the Outer Hebrides beyond. Adjacent to historical 'Dun Flashadder', the view whether drenched in summer sunset, or dusted with light winter snow, is peaceful and captivating, freeing your mind to wander and relax. Facing south-east and north-west, sunrise and sunset are glorious, dark skies mesmerising and auroras awesome when they grace our skies. The croft land extends down to a rocky shore where you are welcome to explore, fish, watch wildlife or ponder reflections. 
It is a great base from which to discover Skye. The cottage is only a few hundred metres off the A850, a 2 min drive from Edinbane, 20 min from both Portree or Dunvegan and neighbour to well-known Waternish. 
This deceptively spacious cottage has been split into two apartments. Entirely independent they each have dedicated access, parking and garden seating areas, offering privacy to enjoy your holiday. It also offers an excellent solution for families that getaway together but enjoy having some peace and quiet to themselves too.  
Ascrib, a charismatic island home from home, has a distinctive Highland character. A subtle fusion of colour imbues the impartment where the contemporary tones of the Isle of Skye Paint Company palette, evocative of the drama and spirit of Skye's land and seascapes, combines beautifully with the traditional hand dyed colour of pure wool Harris Tweed textile furnishings. The inclusion of heritage through black and white family photographs, Celtic pattern in bed drapes, and wee minders of the freedom of childhood days, and some modern conveniences, creates a refreshingly cosy, timeless and inviting holiday apartment. Flowers and candles offers a welcome akin to the spirit of coming home.
ACCOMMODATION IN MORE DETAIL
The accommodation is on two floors as follows.  
Downstairs: 1 Double bedroom, 1 lounge, 1 kitchen/diner, 1 bathroom with whirlpool bath and shower, hall and porch.

 

Upstairs: 1 Double gallery bedroom

 

Image Gallery: View Ascrib self catering cottage apartment images here
UPSTAIRS
The gallery bedroom, a double, is wonderfully romantic, with a canopy bed in glorious warm colours and Celtic inspired monochrome drapes. Candles, flowers, and quirky old photos endear this room as a very charming and romantic island retreat. Lie at night and enjoy the stars and moon in the skylight window. If you leave the blackout blind open, sunrise will greet you with a warm rosy good morning, while evening sunset engulfs you in a rich golden glow. 
DOWNSTAIRS: 
The second bedroom, also a double, embraces calmer colours of the shore and sea. The bed is canopied and again with welcoming flowers and soft light this room is gently relaxing. Overlooking the front garden, it faces east so sunrise again welcomes the day, if you choose not to draw the thick window drapes. 
The bathroom with a whirlpool bath and candles invites you to truly relax after an energetic day out, or to simply pamper yourself because you deserve it. If you are in a hurry, there is a shower too. 
The living room has fabulous sea-views, easily enjoyed from the fireside whose cosy warm log burning stove fire invites you to sit back and chill out! Characterful old island photos and inspiration from the outdoors will inspire your escape from everyday life. TV, DVD and WiFi are available if you enjoy the digital 21st century. 
The kitchen – diner, open plan, off the sitting room, makes mealtime preparation more sociable. The table is by the window again with views over the croft to the sea. 
OUTDOORS
A picnic area accessed by steps and a short path, on the adjacent hillside, gives elevated views over the loch. Ideal for those days between adventures when you simply want to relax. In the evening enjoy the sunset with your favourite tipple or linger longer to enjoy the velvety darkness and starry skies, or if you are lucky, the wonder of the dancing beams of the aurora. 
Picnic on the croft Sometimes there is nothing better than the joy of a lazy picnic, sumptuous or simple, there is plenty of space to choose from amongst the long grass and wild flowers. A croft is a piece of land that was traditionally used for farming to feed the family and ours extends to the shore. It has an overgrown Hazel grove that wildlife loves and wild deer, numerous species of bird are often spotted here. In late Spring the bluebell scent is heavenly and through most of the year birdsong is ever present. 
On the shore seals, otters and porpoise are common visitors to this rocky coastline. The route down is rugged but worth the effort. The silence is golden. Take your binoculars, camera, sketch-pad or book and simply escape. It is balm for the soul! 
Up on immediately adjacent Dun Flashadder not much remains of this adjacent ancient hillfort, except its commanding view, especially at sunset! Its stone circle footprint is clear and the reason for it being chosen as a defense site is evident. 
Detailed information is available on this download.